Docentron mobile accounting system is a suit of mobile banking, payment, accounting, and e-commerce solutions for small businesses and MFIs. Docentron mobile accounting  are available for education, training, and research using a commercially available platform.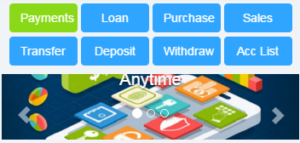 It supports simple SMS based access to essential banking and accounting services (savings accounts, payments, sales, purchasing, and lending). It also supports all major smartphone devices. Users can check detailed transaction records and perform payment confirmation and cancellation. Merchants can create sales and process payment confirmation, cancellation, and refunding using their favorite mobile devices.
You can create a demo account simply by sending an SMS message or register on this web site. Please see the quick start guide below for the instructions on the SMS commands.
Contacts
Please post your general enquiries on the forum of this journey.
Indonesia division trainer and support: Riska ([email protected])
South East Asia trainer and support: Riska ([email protected])
System Features
E-commerce and accounting (cash, COD, bank transfer, and credit card transactions)
Cashless transactions (mobile credits, coupons, royalty credits)
Payment: pay using SMS or Mobile Application. Track payments using SMS and mobile accounting application.
Purchase: create a purchase order and send payments to sellers. Sellers are notified of the ordered items for delivery by SMS. Buyers and sellers can track purchase and delivery using mobile accounting application. Supports cash-based purchases.

Sales: create a sale, manage payment, cancellation, and refund. Anyone can be a merchant. Start to sell online or on the market. Supports cash-based sales.

Accounts receivable and payable: keep track of assets and liabilities for personal and corporate accounts, such bank accounts, loans, lending, and store credits.
Cashless Transactions:

Savings account: savings account keeps track of debits for payments, credits from sales, deposits, withdrawals, and loan payments. This is used for cashless banking (mobile cash)
Withdrawals: withdraw cash from merchants or MFIs
Deposits: deposit cash to merchants or MFIs for mobile credit.
Transfer: transfer credits to friends, relatives, or merchants.

Ledger: full transaction records and transaction items can be viewed for tracking and reporting.
Corporate accounts with multiple staff. Manage roles of staff and control access to operations. You can control who can view company accounts and what kind of operations each staff can perform.

   
File management and sharing for bookkeeping: secure online data file storage to store receipts and invoices. Upload and link receipts and invoices with payments and sales. Bookkeeping is easier now with this service.
Customer support, document, and training management.
Instant chat messaging services for customer support and training. Create support chat channels and pages.
Mobile e-Commerce (Customisable products to support all types of lifestyles)
Service availability
The service is available to over 1200 countries. We provide affordable low-cost outbound SMS services. Outbound SMS message are used for two-factor authentication and notification.
Additionally, we also support low-cost inbound SMS service numbers from anywhere in the world. Customers can send SMS messages to our server to create accounts and check account balances. It costs only U$0.03 (1.25 peso) per SMS message to our system. See our global numbers at the end of this page.
Localized inbound phone numbers can be setup in 47 countries including indonesia and malaysia.
We can also setup dedicated SMS gateways for your business to reduce the cost of SMS services.
Usage Scenarios
Are you still using paper-based or desktop computers (spreadsheet) for your bookkeeping? Replace them with our secure and easy to access online bookkeeping system. Access using any phones that are capable of SMS,
The mobile banking and accounting system not only replaces paper-based bookkeeping with secure cloud data storage, it also provides 24/7, anywhere access, and accounts for customer to keep track of their loans, purchases, payments, and delivery.
Mobile Banking for MFI
The following figure shows a setup of an MFI (Microfinance Institution) using a mobile banking server.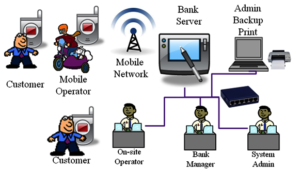 SMS is used to communicate with mobile operators and customers. An internal network system is used to communicate with local operators, managers, and system administrators. Mobile operators carrying mobile phones use SMS service to connect to the bank server and perform credit assessment, loan, cash collection (for deposit), and account creation. On-site operators can connect to the bank server using a mobile bank terminal over an internal network to perform bank teller roles such as customer services and opening/closing accounts. Managers can add employees, open/close bank account, and perform approval of closure of account, loans, withdrawal of a large amount of cash and transfer of a large amount of credit. System administrator support/configure the Mobile bank server and mobile bank terminals.
Security of Mobile Banking Operations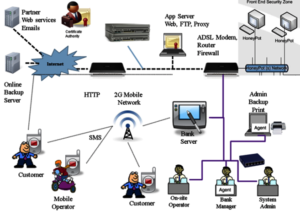 Security of bank servers is of paramount importance. We provide expertise on setting secure infrastructure for day-to-day banking operations.
E-Commerce and Accounting
The system supports cash-based economy where payments are done using cash, bank transfers, or credit cards.. Here, cash or bank credits are exchanged between merchants and buyers. The system provides easy to use bookkeeping features. SMS messages are used to inform customers about payments, delivery, and products.
Small business owners who need simple and easy to use accounting system. Creating customer accounts and managing their accounts are easy with the mobile banking and payment system.
Configure the system for small business
Record purchases, payments, delivery, receipts, company credit lending and loans, bank loans and loan-payments.
Record sales, invoices, payments, and delivery
Record bank transfers/deposits/withdrawals
Record and manage loans from MFIs
Financial reports for tax and accounting purposes.
MFIs need more sophisticated and secure record keeping system
Create loan accounts for customers.
Record and manage loan payments.
Record bank transfers/deposits/withdrawals.
Financial reports for tax and accounting purposes.
E-commerce.
Sell services and products using mobile phones.
List products and let buyers place orders.
Manage payment and delivery.
Financial reports for tax and accounting purposes.
Cashless Economy
The system also supports cashless economy where savings accounts are used to record mobile credits. In this setting, all payment transactions must be approved by buyers explicitly by using secure passcodes.
Mobile Banking and Payment for Cashless Economy
Replace cash transactions with mobile credits
Use the system as a transaction record system replacing paper-based bookkeeping.
MFIs and a community can form cashless economy to create secure and efficient economy.
About Mobile Banking
Banking is essential to modern economy and yet still a large population of the world is unbanked due to the fixed costs of current banking systems. Docentron mobile banking is a mobile phone-based banking system for microfinance that is affordable for the unbanked and underbanked population.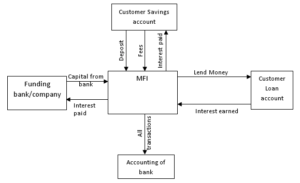 Now farmers and villagers in remote area can start their micro-business using freely available banking system. All we need is a simple SMS message capable mobile phones to create bank accounts and receive credit loans for business. Villagers can make payments, using simple SMS confirmations, pay loans, and transfer funds to family members. Sellers can send payment requests using SMS messages as well. Micro-finance institutes can manage cash deposits, withdrawals, and loans on smart phones.
Customisation for Any Business
The system can be customised for any businesses and micro-finance institutes. We are happy to provide free consulting services and research to help vitalize economy in your countries.
We help MFIs set up dedicated inbound SMS numbers and core banking servers. Smart-phone based access is supported on all major devices and there are no limitations on country regions.
Localized inbound SMS numbers can be setup to reduce the SMS costs for customers for the following 47 countries. If your country is not listed here, we can help install low-cost SMS gateway servers in your country.
AU – Australia
AT – Austria
BE – Belgium
BR – Brazil
CA – Canada
CL – Chile
CR – Costa Rica
HR – Croatia
CZ – Czech Republic
DK – Denmark
EE – Estonia
FI – Finland
FR – France
DE – Germany
GT – Guatemala
HN – Honduras
HK – Hong Kong
HU – Hungary
IN – India
ID – Indonesia
IE – Ireland
IL – Israel
IT – Italy
LV – Latvia
LT – Lithuania
MY – Malaysia
MX – Mexico
NL – Netherlands
NO – Norway
PK – Pakistan
PL – Poland
PT – Portugal
PR – Puerto Rico
RO – Romania
RU – Russia
RW – Rwanda
SG – Singapore
SK – Slovakia
ZA – South Africa
KR – South Korea
ES – Spain
SE – Sweden
CH – Switzerland
TR – Turkey
GB – United Kingdom
US – United States
ZM – Zambia
* Please let us know if you need local number for your region. We will add more local numbers to support your business.